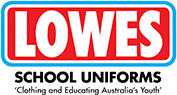 Lowes is Australia's leading menswear, young menswear and schoolwear retail chain offering quality clothing at affordable prices.
As a family-owned business, Lowes is part of a small but elite group of companies which has been in business for over 120 years and is still 100% Australian owned.
For over a century, the company has been built on integrity, forward planning and providing quality, value for money merchandise for Australian men. Today, with 197 stores nationwide, it continues to expand steadily.
In a brand conscious society, many clothing outfitters have paid dearly to change to a some what pretentious, upmarket image with more expensive merchandise. Lowes, however, has maintained a simple, down to earth business model in the way they have conducted business for over a century. Since its' foundation in 1898, Lowes continues to provide traditional, service oriented "value for money" menswear and has become an Australian icon in its own right.
Today, Lowes continues to offer the public a range of well-made clothing at affordable prices and has expanded from its traditional offering of menswear and business apparel to offer a full range of school wear, young mens wear, sportswear, active wear, footwear and work wear.
Lowes has been providing 'Beare & Ley' premium quality brand schoolwear across Australia for many years and has become Australia's largest retailer and online provider of specialised school uniforms. At Lowes, we can provide a quality uniform solution for your school – retail, on-campus and online… feel free to contact us.